Pediatric Chiropractic in Golden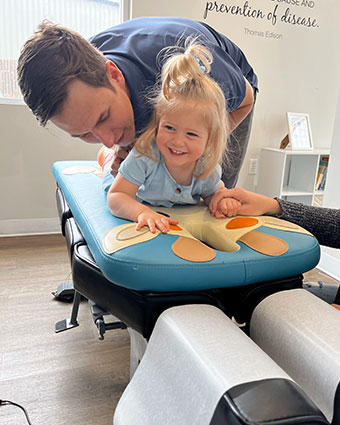 While kids are designed to be healthy, strong, and resilient, for most families right now that is simply not the case. Currently over 40% of children have a chronic health condition such as Autism, ADHD, Asthma, or Epilepsy. The path to those chronic conditions begins as a series of acute, early childhood illnesses that traditional medicine cannot get a handle on.
Parents whose children are struggling with things like colic, constipation, recurrent ear infections, allergies, sensory issues, and developmental delays are often told, "Don't worry, they'll grow out of it." Well, that's simply not true. Without proper help, far too many kids today "grow into" chronic health challenges, and suffer and struggle in ways that are simply not fair.
Enter Live Aligned Family Chiropractic. With an empathetic team of professionals, we are equipped to solve the root issues contributing to neurological and behavioral issues in your children. We take an individualized approach that is based on advanced data on the body and addresses exactly what you and your child are experiencing at a foundational level.
NEW PATIENTS

The Right Care for Your Child
Just like adults, we care for each child as a separate, unique human being deserving of our full attention and intentional, gentle, and safe care.
Our team provides top-quality personalized service for children. We identify potential roadblocks to long-term health and provide neurologically-focused
Chiropractic care
that aims to set the next generation up for success and health in the future.
Schedule Today
Come into an active and loving environment to experience relief for you and your child. Get started on a life-changing journey with a holistic health partner by reaching out to us.
Contact us now to schedule your first appointment.
CONTACT US

Pediatric Chiropractic Golden CO | (720) 807-4234