New Patients at Live Aligned Family Chiropractic
Thank you for selecting our practice for your healthcare needs! We're delighted that you've entrusted us with your care. To ensure a smooth visit, we kindly request that you fill out and return the forms sent to you upon scheduling your appointment. Additionally, we recommend refraining from exercising or participating in strenuous activities for a minimum of two hours prior to your appointment. We look forward to serving you soon!
The Process
Our process involves five steps:
STEP 1: Consultation
From the beginning, our goal is to get to know you and your unique health challenges. We put you at ease by really listening and taking the time to understand you during an initial consultation.
STEP 2: INSiGHT Scans
We get reliable and actionable information on our patients using INSiGHT Scans, which find, measure, and quantify the stress and tension in your body's nervous system.
STEP 3: Care Plan
Once we know what's going on, we can plan to fix what's wrong. We build customized plans, taking X-Rays for adults only if necessary.
STEP 4: Findings Report
You and one of our team members will sit down and go through all the insights we have gathered. We answer your questions and concerns, then agree on an exciting and clear course of action.
STEP 5: Adjustments
We get right to work on relieving tension and stress with gentle and safe therapy.
Get ready for laughs, relaxation, and some serious healing!
Finance Options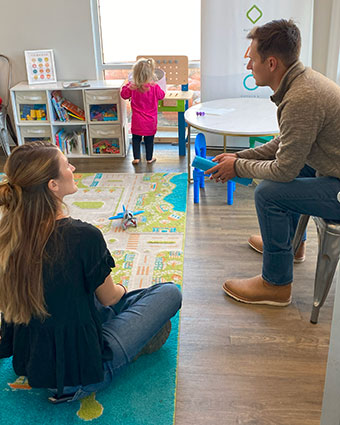 For payments, we accept all major credit cards.
Care is on a cash basis; payment is expected at the time of service. Families are encouraged to use health savings accounts or explore our family plans. We also participate in Medicare and accept extended payment options via Care Credit.
If you are a first responder or military member, ask us about exclusive discounts. Plus, we handle insurance assignments for auto accidents and workers comp.
A Few Final Notes
Wear comfortable clothing on your visit that will allow us to access your back for INSiGHT scans.
To ensure accurate scans, wait until after your appointment to work out, or finish your routine at least two hours before you get here.
You will receive a text message when you book an appointment with us. Complete the form linked in the text to avoid the hassle of paperwork when you get to the office.
Get Started
Schedule your first appointment now! We look forward to welcoming you into the practice.
CONTACT US

New Patients at Live Aligned Family Chiropractic | (720) 807-4234